Rising Production of Fertilizer and Urea Products Across the Globe Drives the Controlled-Release Fertilizers Market
04/mar/2019 13:38:44 MarketsandMarkets Contatta l'autore
Questo comunicato è stato pubblicato più di 6 mesi fa. Le informazioni su questa pagina potrebbero non essere attendibili.
The report " Controlled-Release Market Fertilizers by Type (Slow-release, Coated & Encapsulated, N-Stabilizers), Crop Type (Cereal & Grain, Oilseed & Pulse, Fruit & Vegetable, Plantation, Turf & Ornamental), Application Method, and Region - Global Forecast to 2022 " , The controlled-release fertilizers market is projected to grow at CAGR 6.29% from an estimated value of USD 1.56 Billion in 2017 to reach USD 2.12 Billion by 2022
The years considered for the study are as follows:
Base year - 2016

Estimated year - 2017

Projected year - 2022

Forecast period - 2017 to 2022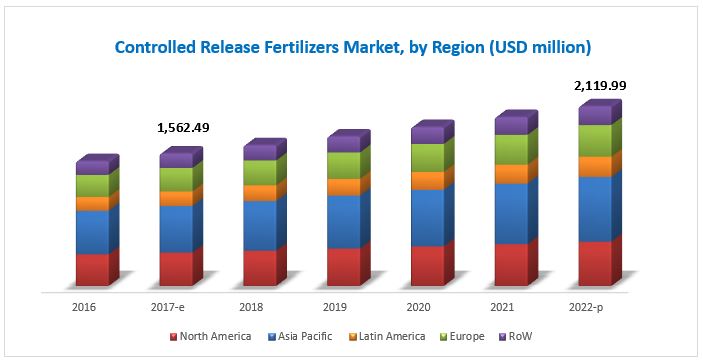 The objectives of the report
Criteration and projecting of controlled-release fertilizers (CRFs) market with respect to their types, crop types, application methods, and regional markets, over the period ranging from 2017 to 2022

Identifying attractive opportunities in the market by determining the largest and fastest-growing segments across regions

Analyzing the demand-side factors on the basis of the following:

Impact of macro-and micro-economic factors on the controlled-release fertilizers market

Shifts in demand patterns across different subsegments and regions
Download PDF Brochure: https://www.marketsandmarkets.com/pdfdownloadNew.asp?id=136099624
The market is driven by factors such as the rise in demand for high-efficiency fertilizers, growth in research on cost-effective polymer coatings for coated and encapsulated fertilizers, and the impact of controlled-release fertilizers on controlling nutrient losses to the environment.
Cereals & grains segment is projected to be the most important crop type for controlled-release fertilizers market
The fertilizer application on cereals & grains was seen to be highest in the US and Asia Pacific countries. Stabilizers and coated fertilizers have been widely used in the United States and India. An increase in demand has been witnessed as a result of a growing awareness of sustainable agricultural practices. Hence, the cereals & grains segment, the controlled-release fertilizers market in 2016.
Coated & encapsulated segment, by type, is projected to remain in the higher growth curve in the next five years
The adoption of these fertilizers is increasing globally due to the growth in terms of subsidies and policies. Sulfur-coated, sulfur-coated, fertilizers have been the most commonly used in the developing countries. To obtain a further reduction of the total fertilizer costs, coated and encapsulated fertilizers are used in blends with conventional fertilizers in different ratios, owing to which, coated fertilizers in conjunction with nutrients are researched by key players.
Speak to Analyst:
https://www.marketsandmarkets.com/speaktoanalystNew.asp?id=136099624
Significant competition to capitalize the market potential of the Asian Pacific and the South American regions
China, India, Brazil, Argentina, Argentina and China the forecast period. This would increase the number of their business units and distribution networks, leading to a strong market competition.
This report includes a study of marketing and development strategies, along with the product portfolio of leading companies. These companies include Agrium (Canada), Yara (Norway), ICL (Israel), Kingenta (China), and Helena Chemical (US), which are some of the well-established and financially stable players that have been operating in the industry for several years. Other players include ScottsMiracle-Gro (US), SQM (Chile), Haifa Chemicals (Israel), Koch Industries (US), AGLUKON (Germany), COMPO EXPERT (Germany), and JCAM AGRI (Japan).