Questo comunicato è stato pubblicato più di 6 mesi fa. Le informazioni su questa pagina potrebbero non essere attendibili.
The report "Eubiotics Market by Type (Probiotics, Prebiotics, Organic Acids, Essential Oils), Livestock (Swine, Poultry, Ruminant, Aquaculture), Form (Dry and Liquid), Function (Nutrition & Gut Health, Yield, Immunity, Production) - Global Forecast to 2022", The global eubiotics market is estimated to be valued at USD 4.84 Billion in 2016 and projected to reach USD 7.47 Billion by 2022, at a CAGR of 7.51% from 2016.
Market Dynamics:
Drivers
Increasing awareness about feed quality and safety
Replacing antibiotic growth promoters (AGPs) with eubiotics
Rising demand for manufactured feed
Growth in demand for animal protein
Restraints
Trade complexities due to impositions of regulations
Increasing complexities in the food production chain
Opportunities
Increasing investments and opportunities in animal nutrition
Growing consumer awareness
Increasing investment in the pet industry
Challenges
Rise in raw material prices
Increasing disease outbreaks in livestock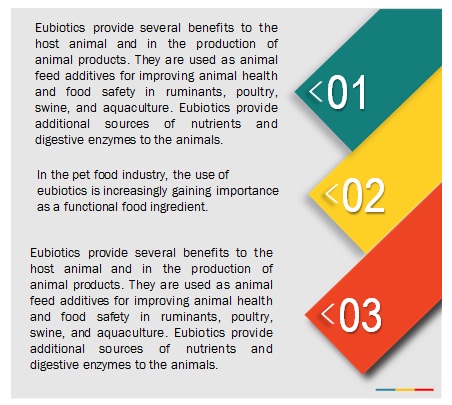 Eubiotics are gaining importance as they play an important role in improving feed digestibility, cost reduction, nutrient absorption, and better performance. They are achieving popularity as they are replacing antibiotics for improved health and performance of livestock. Hence, eubiotics will be viewed as a business opportunity in the next six years. As a result, many multinational players have entered into the production of various types of eubiotics, which can be used for diversified livestock.
Download PDF Brochure:
https://www.marketsandmarkets.com/pdfdownloadNew.asp?id=132956187
Significant growth expected in the probiotics segment
Probiotics are gaining high popularity in the eubiotics market across the world, the demand for probiotics used in feed for animal health and nutrition have been contributing to the growth in the market. Rapidly increasing demand for quality animal products is anticipated to drive the market for probiotics in animal feed during the projected period. Probiotics are more convenient to use, owing to their ease in application. Probiotics are the most widely used eubiotics and hence, are projected to be the fastest-growing for the next six years.
The poultry segment projected to be the fastest-growing market during the forecast period
The poultry segment is projected to be the fastest-growing market from 2016 to 2022. The role of eubiotics in poultry includes altering the metabolism by enhancing digestive enzyme activity, maintaining normal intestinal microflora, and reducing bacterial enzyme activity and ammonia production. They improve feed intake and digestion, neutralize enterotoxins, and stimulate the immune system. The Asia-Pacific market for eubiotics in the poultry segment accounted for the largest share in 2015.
Speak to Analyst:
https://www.marketsandmarkets.com/speaktoanalystNew.asp?id=132956187
Significant growth for eubiotics in animal feed observed in the European region
Eubiotics have tremendous market opportunities in the animal feed industry around the world. The animal feed industry in the European and Asia-Pacific regions is significantly influenced by the demand for animal feed additives, increase in concerns toward disease outbreak in livestock, and rise in demand for milk and meat products. The demand for eubiotics-based products in animal feed is continuously increasing in the Asia-Pacific region. Increase in awareness about the health benefits derived from eubiotics is also the prime factor driving the demand for eubiotics-based animal feed in this region.
This report includes a study of marketing and development strategies, along with the product portfolio of leading companies. It includes the profiles of leading companies such as Cargill (U.S.), BASF SE (Germany), E. I. du Pont de Nemours and Company (U.S.), Koninklijke DSM N. V. (Netherlands), Chr. Hansen A/S (Denmark), Novozymes (Denmark), Calpis Co., Ltd. (Japan), Lesaffre Group (France), Kemin Industries, Inc. (U.S.), Lallemand Inc. (Canada), ADDCON (Germany), Behn Meyer (Malaysia), Novus International Inc. (U.S.), and Advanced BioNutrition Corporation (U.S.).
Increasing awareness about feed quality and safety to drive the global eubiotics market
The growth of the eubiotics market is driven by the rising customer awareness towards superior quality feed grades, which are nutritive and have an accurate composition of ingredients to maintain the balance during consumption. Manufacturers are focusing on maintaining a balance in the ingredients used in the production of eubiotics to optimize nutrient absorption. In addition, the imposition of bans on antibiotics in North America and Europe, rise in prices of natural feed grades, and the use of feed enzymes for cost reduction of feed grades further contribute to the growth of the market. The high-growth potential in emerging markets provides new growth opportunities to the market players.
Major Market Developments:
In September 2016, Cargill invested USD 146 million in a feed plant at Bathinda, Punjab, India. The plant offers nutritious and safe feed to dairy farmers in Punjab, Haryana, Uttar Pradesh, and Rajasthan. It produces 120,000 metric tons of feed per month and feeds 75,000 cows per day.
In May 2016, Kemin set up a new advanced quality control lab and 14.600 square meters of warehouse and logistics office space at the Kemin campus in Belgium to expand and develop its business.
In May 2016, Lallemand NZ Ltd (trading as Vitec Nutrition) (New Zealand) merged with Nutritech International (New Zealand). With this merger, the company became New Zealand's largest supplier of animal nutrition and forage additive technologies. This strengthened its position in the eubiotics market.
In January 2016, Chr. Hansen acquired Nutritional Physiology Company, a leading supplier of probiotic products for beef cattle. This acquisition created attractive opportunities for synergies within sales, including cross-selling, supply chain improvements, and innovation. This helped the company to broaden its microbial platform and expand its presence in the beef cattle segment.
In January 2016, Kemin announced a new product for the swine and poultry market— ButiPEARL Z— that offers key nutrients required for optimal gut health. This would help the company to strengthen its product portfolio in the animal nutrition market.