Questo comunicato è stato pubblicato più di 3 mesi fa. Le informazioni su questa pagina potrebbero non essere attendibili.
The biofortification market is estimated at USD 78 million in 2018 and is projected to grow at a CAGR of 8.6% from 2018 to reach USD 118 million by 2023. advancements. Biofortification is used in crops such as sweet potato, cassava, rice, corn, wheat, beans, pearl millet, and others such as tomato, banana, sorghum, and barley.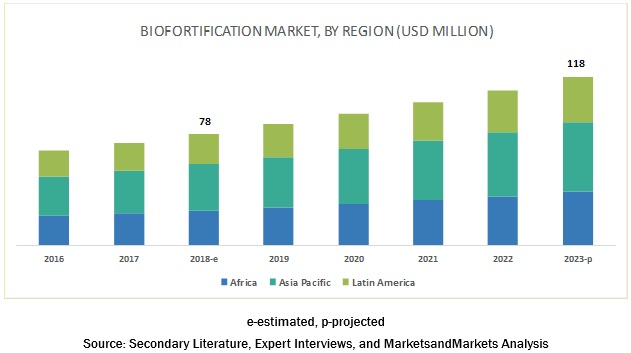 The sweet potato segment is the largest contributor in the biofortification market during the forecast period.
The sweet potato segment is estimated to be the largest share of the biofortification market in 2018. It is particularly suitable for orange-fleshed sweet potato (OFSP). It is a source of energy for the diet of centuries of aging to its high carbohydrate content. However, its vitamin A content from carotene only became recognized over the past century. Using biofortification, sweet potato breeding in Africa is focused on higher yields, sweeter taste, and higher dry matter, which increase its carotene concentration.
Download PDF Brochure:
https://www.marketsandmarkets.com/pdfdownloadNew.asp?id=38080924
The vitamins segment is the fastest growing market during the forecast period.
The biofortification market is segmented into iron, zinc, vitamins, and others. Vitamins and nutrients content in food is the fastest growing nutrient market in the biofortification market from 2018 to 2023 .
Asia Pacific is projected to account for the largest market size during the forecast period
The biofortification market, based on the region, is segmented into Latin America, Asia Pacific, and Africa. The Asia Pacific is projected to dominate the biofortification market throughout the forecast period. This is because biofortification has strong growth potential in agriculture and also improves the nutrition content in food. The biofortification market has grown considerably over the last five years, and this trend is expected to continue in the near future. The growing consumer demand for high nutritional content in food is projected to fuel the demand for biofortified crops, globally.
Speak to Analyst: }
https://www.marketsandmarkets.com/speaktoanalystNew.asp?id=38080924
Key Market Players:
Key players identified in this market include Syngenta (Switzerland), Bayer (Germany), BASF (US), and DowDuPont (US). Focusing on acquiring and developing products specific to consumer preferences. These companies have a strong presence in the Asia Pacific and Africa. They have set up research laboratories in various regions and have strong distribution networks.
Recent Developments:
In November 2018, Interacting with its capabilities in its laboratory in Beira, Mozambique.

This would help the company to expand its business in Mozambique as well as in the East African region.

In September 2018, Bayer acquired Monsanto (US), for USD 128 per share.

This would help combine the companies¡¯ leading innovation capabilities and R&D technology platforms in the agricultural industry.

In October 2016, DuPont Pioneer and Africa Harvest Biotech Foundation International, a research firm from Johannesburg, South Africa, entered into collaboration for research on increasing vitamin E and beta-carotene carotene.

In November 2015, Bayer opened three R&D institutes in Paul¨ªnia, Brazil;

this center would host a resistance-monitoring laboratory and a center for agriculture in tropical regions.