Questo comunicato è stato pubblicato più di 1 anno fa. Le informazioni su questa pagina potrebbero non essere attendibili.
The report " Biological Seed Treatment Market by Type (Microbials and Botanicals), Crop (Corn, Wheat, Soybean, Cotton, Sunflower, and Vegetable Crops), Function (Seed Protection and Seed Enhancement), and Region - Global Forecast to 2022" , The biological seed treatment market is projected to reach USD 1,251.4 Million by 2022, from USD 739.3 Million in 2017, at a CAGR of 11.10% from 2017. lesser risks of exceeding pesticide MRLs, and insurance to seed investments.
The years considered for the study are as follows:
Base year - 2016

Estimated year - 2017

Projected year - 2022

Forecast period - 2017 to 2022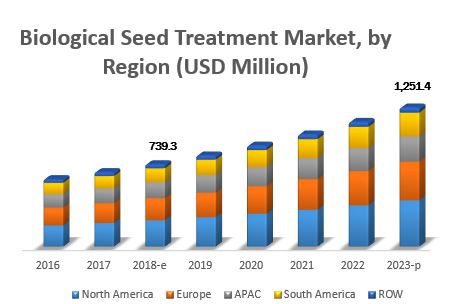 Download PDF Brochure:
https://www.marketsandmarkets.com/pdfdownloadNew.asp?id=162422288
Seed enhancement is estimated to be the largest market for biological seed treatment
The seed enhancement segment comprises biofertilizers and biostimulants. Cumulatively, they were estimated to account for major share of the total market in 2017. The product portfolio of major companies involved in the biological seed treatment market is more focused toward biofertilizers and biostimulants. Thus, the market for biofertilizers is the largest is expected to maintain its growth momentum in future.
Soybean segment is projected to be the fastest growing during the forecast period
Soybean is an important source of protein and oil for the feed and chemical industries. Despite being at a crop crop with natural nodule formations, inoculants are used to further improve root length, effective water absorption, and nutrient uptake, thereby reducing early senescence, and improving grain quality. Thus, the use of biological seed treatments in soybean crops is expected to grow at the highest rate during the forecast period.
North America is projected to be the fastest-growing market
The major reason for the biological seed treatment is to have a product that is easily registered. Low investment requirement and limited management. Additionally, growing awareness among consumers against synthetic chemicals has led to higher adoption of these products.
This report includes a study of marketing and development strategies, along with the product portfolios of leading companies. BASF (Germany), Bayer (Germany), Syngenta (Switzerland), Monsanto (US), DuPont (US), Valent BioSciences (US), Verdesian Life Sciences (US), Plant Health Care (US), Precision Laboratories (US) , Koppert (Netherlands), Italpollina (Italy), and Incotec (Netherlands).