Questo comunicato è stato pubblicato più di 3 mesi fa. Le informazioni su questa pagina potrebbero non essere attendibili.
The report " Agricultural Enzymes Market by Type (Phosphatases, Dehydrogenases, Sulfatases), Product Type (Fertility Products, Growth Enhancing Products), Crop Type (Cereals & Grains, Oilseeds & Pulses, Turf & Ornamentals), and Region - Global Forecast to 2022 " , The global agricultural enzymes market is projected to grow at CAGR of 11.2% to reach USD 474.7 million by 2022 in terms of value. The agricultural enzymes is growing rapidly to factors such as cost savings and increasing demand for biofertilizers. The trend towards sustainable industrial agriculture has created opportunities for agricultural products.
The years considered for the study are as follows:
Base year - 2016

Estimated year - 2017

Projected year - 2022

Forecast period - 2017 to 2022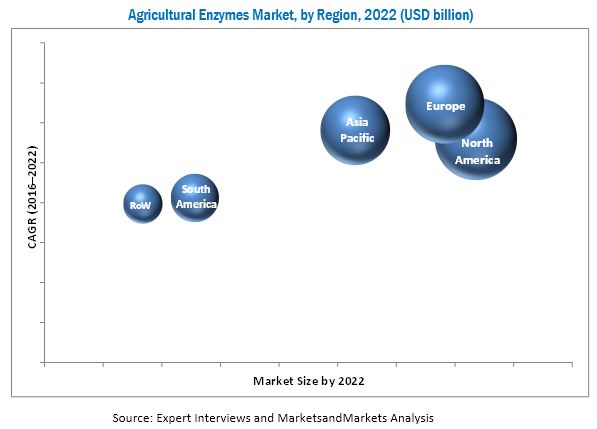 The cereals segment, by crop type, is projected to dominate the agricultural enzymes market through 2022.
Cereals and grains are the staple diet in several developing countries, especially for the lower income and rural population. Urbanization is one of the main factors affecting the demand for cereals and different lifestyles, laughter in income, and change in food requirements. Agricultural enzymes are used to make more crops. The global demand for agricultural enzymes is also expected to increase in almost all countries.
Download PDF Brochure:
https://www.marketsandmarkets.com/pdfdownloadNew.asp?id=180483493
Phosphatases segment dominated the agricultural enzymes market in 2016
The phosphatases segment accounted for the largest share in 2016. Phosphatases are a broad group of enzymes that are capable of catalyzing hydrolysis of esters and anhydrides of phosphoric acid and play to vital role in soil systems. It has the ability to solubilize soil mineral elements.
Fertility segment accounted for the largest market share in 2016
Fertility products Soil fertility products containing soil enzymes such as proteases, dehydrogenases, ureases, sulfatases, and amylases are important in catalyzing several vital reactions necessary for the life processes of micro-organisms in soils and the stabilization of soil structure.
Speak to Analyst: https://www.marketsandmarkets.com/speaktoanalystNew.asp?id=180483493
Europe: Lucrative market for opportunities for the agricultural enzymes market
In 2016, North America accounted for the largest share of the global agricultural enzymes market. The market in Europe is also projected to grow at a significant CAGR during the forecast period. This region includes countries such as France, Spain, Germany, Italy, the UK, and Rest of Europe where the country is a key producer of various agricultural applications. This report includes a study of marketing and development strategies, along with the product portfolios of leading companies. Novozymes A / S (Novozymes BioAg) (Denmark), Syngenta AG (Switzerland), EI du Pont de Nemours and Company (US), Koninklijke DSM NV (Netherlands), BASF SE (Germany) and Bayer AG (Germany)