Questo comunicato è stato pubblicato più di 1 anno fa. Le informazioni su questa pagina potrebbero non essere attendibili.
The report " Plant Breeding and CRISPR Plants Market by Type (Conventional and Biotechnological [Hybrid, Molecular Breeding, GM, Genome Editing]), Trait (Herbicide Tolerance, Disease Resistance, and Yield Improvement), Application, and Region - Global Forecast to 2023 "The plant breeding and CRISPR plants market is projected to reach USD 14.6 billion by 2023, from USD 7.6 billion in 2018, at the CAGR of 13.95% during the forecast period The market of driven biotechnology in the agriculture industry.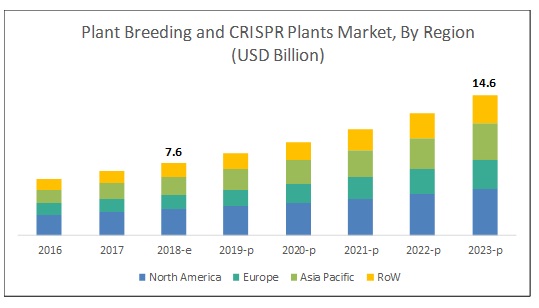 Plant breeding techniques for cereals and grains are projected to be widely researched during the forecast period.
Various countries have adopted molecular techniques such as mark-assisted selection (MAS) for plant breeding, two for increasing demand for high yield from field and horticultural crop growers. Corn is a major crop that finds applications in various industries across the world; biotechnological techniques such as hybrid and molecular breeding are increasingly adopted for corn by all breeders. Also, the genetic data available for corn is higher, followed by wheat.
The main goal of contributing to the growth of grains in genetically modified crops such as corn, wheat, and rice in the US, Brazil, and China.
Download DPDF Brochure: https://www.marketsandmarkets.com/pdfdownloadNew.asp?id=256910775
North America is estimated to dominate the market in 2018, while the Asia Pacific is projected to witness the fastest growth through 2023.
The country has been high enough to encourage adoption of advanced technologies for better yield. Also, the limited regulatory and high-tech support for intellectual property. Hence, North America dominated the global plant breeding market in 2017. Also, seed manufacturers such as Bayer, Monsanto, and Syngenta have been showing increasing interest in tapping this potential market, where the companies have been expanding their R&D.
This report includes a study of development strategies. This report includes a detailed study of major seed manufacturers that have in-house plant breeding facilities; these companies include players such as Bayer (Germany), Syngenta (Switzerland), DowDuPont (US), KWS SAAT (Germany), Limagrain (France), and DLF Trifolium (Denmark), and also major service providers, such as Eurofins (Luxembourg ), SGS SA (Switzerland), Pacific Biosciences (US), Benson Hill Systems (US), Hudson River Biotechnology (US), Evogene (Israel), Bioconsortia (US), and Equinom (Israel).
Recent developments:
In October 2018, KWS SAAT SE and JR Simplot Company (US), together founded a new joint venture, Adrevo BV This new joint venture would focus on the development of breeding potatoes varieties with improved and new traits.

In September 2018, Limagrain (France) acquired AdvanSeed (Denmark), through its subsidiary Vilmorin & Cie. The acquired company has specialization in breeding, production, and distribution of hybrid spinach and leafy vegetable seeds.

In October 2017, DuPont Pioneer and the Donald Danforth Plant Science Center (Danforth Center) (US), entered into a collaborative agreement.

Under this agreement, DuPont agreed to provide access to its intellectual property (IP), technology capabilities, and scientific expertise related to methods for using CRISPR-Cas technology for the development of improved seed varieties.