Questo comunicato è stato pubblicato più di 1 anno fa. Le informazioni su questa pagina potrebbero non essere attendibili.
The report Food Allergen Testing Market categorizes the Global Market by Source (Peanuts & Soy, Wheat, Milk, Eggs, Tree Nuts, Seafood), Technology (PCR-Based, Immunoassay-Based (Elisa)), Food Tested (Bakery & Confectionery, Infant Food), and Region.
The food allergen testing market, in terms of value, is projected to reach USD 760.7 million by 2022, at a CAGR of 6.8% from 2016. globalization of food trade, and increase in food recall for undeclared allergen products.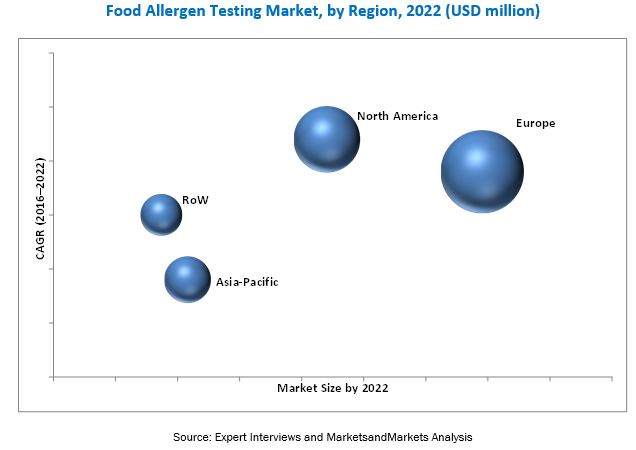 Allergic Patients Completely Supporting the Labeling Before Purchasing the Product. The Food Allergen Labeling and Consumer Protect Act (FALCPA) has sent the declaration of eight major allergens on the food labels. Such labeling mandates are fueling the growth of food allergen testing market.
Undeclared allergens in packaged foods cause serious health hazards for allergic consumers. The data on food recalls collected by various food safety organizations for undeclared allergens
The peanut & soy segment accounted for the largest share in the food allergen testing market in 2015
The market for peanut and so on among the types of food allergens, accounted for the largest share in 2015. Peanut and soy ingredients Hence, allergy prevalence two to peanuts & so has been increasing which is leading to increased demand for allergen testing for safety. It is also known as "hidden allergen". It is also known as "hidden allergen". For soy allergic people, Asian cuisine is a high risk zone
Immunoassay (ELISA) - based on projected to be the largest and fastest growing segment, by technology
ELISA is one of the most widely used immunoassays in food allergen testing. Immunoassay (ELISA) technology is the most common and economic technology to detect and quantify allergens in food products. Low detection limits and high analytical selectivity are the key advantages of this technology. It is projected to grow at the highest CAGR from 2016 to 2022.
Europe is projected to be the fastest growing region in the food allergen testing market
The European region is the fastest growing market through 2022 two to the most allergic reactions among the growing market for processed food. Germany is projected to be the fastest growing country in the European region. European countries have recorded many issues related to food allergens; as a result, stringent policies have been established to achieve complete food safety. The food safety authorities in Europe to protect consumer health by ensuring the quality of the food supply chain.
This report includes a study of marketing and development strategies, along with the product portfolios of leading companies. The profiles of leading companies such as SGS SA (Switzerland), Intertek Group plc (UK), TUV SUD Psb Pte. Ltd. (Germany), ALS Limited (Australia), Eurofins Scientific SE (Luxembourg), Merieux Nutrisciences Corporation (US) , Asure Quality Ltd (New Zealand), Microbac Laboratories Inc (US), Romer Labs Diagnostic GmbH (Austria), and Symbio Laboratories (Australia).